Ah Star Wars, we meet again. Last time I was reviewing a novel now you're in the form of a movie. I won't lie I was a little nervous going in; the trailers were good, but trailer quality isn't a sign of quality. I'm looking at you Attack of the Clones.
I got to see this a few times in theatres and am basing this review off my memory of that experience. I will say right from the start that I was certainly the target audience for this movie, but that doesn't mean I don't have problems with it.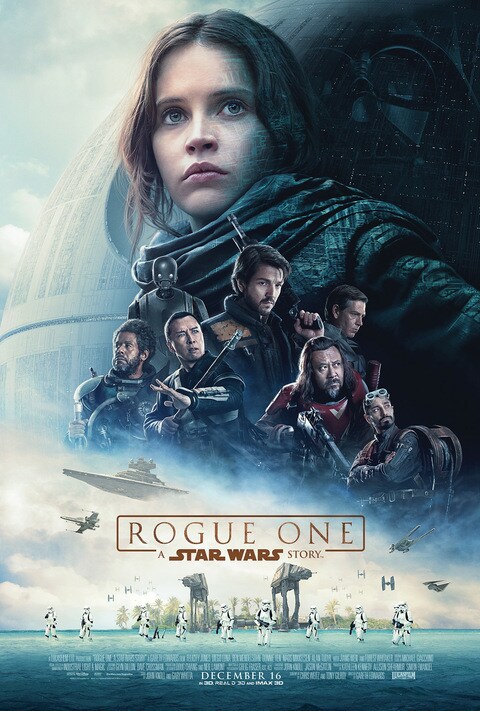 Now for those who don't know the plot is a simple one; the rebels steal the plans for the Death Star, and this shows the days leading to that mission. And it is honestly a fun time, once the mission starts. The beginning and middle aren't bad, but they feel like they've been cut down a lot to save on time. Mainly because there are a lot of characters that all seem to have interesting back stories, and they're suppose to be a close-knit team, but we don't get a sense of why that is. We pinball from planet to planet at the beginning, getting a few good moments and some exposition about different characters, but nothing makes these characters quite as memorable as other Star Wars characters. Aside from K-2SO and Director Orson Krennic of course, but K-2SO is just a funny droid, and Krennic isn't fighting as much for scene presence when he's on with most of the other characters.
There are three main villains in this film: Krennic is the main antagonist for most of the movie with Grand Moff Tarkin acting as an antagonist to him and Darth Vader stealing a couple of brief scenes. Krennic is almost sympathetic, and I found myself wanting to root for him when he was butting heads with Tarkin. Vader was there for fan service I have to admit, but it was good fan service.
Going off of that, there is actually a lot of fan service and easter eggs to find for Star Wars fans.
The look of the film is also a magnificent visual of what the Original Trilogy (OT) would have looked like if they were made today. The style of the old blended with new technology works incredibly well. I feel here I should make mention that a couple of characters have been recreated with CGI, and some people have said that it was bad and distracting, but I thought it was one of the best CGI effects I have ever seen.
This film isn't the best Star Wars movie to come out, I'd say it isn't close to that, but it certainly isn't the worst by a long shot. If you love Star Wars, you'll enjoy this, if your not a fan I'd say this is fine as long as you see or have seen at least Star Wars Episode IV A New Hope.